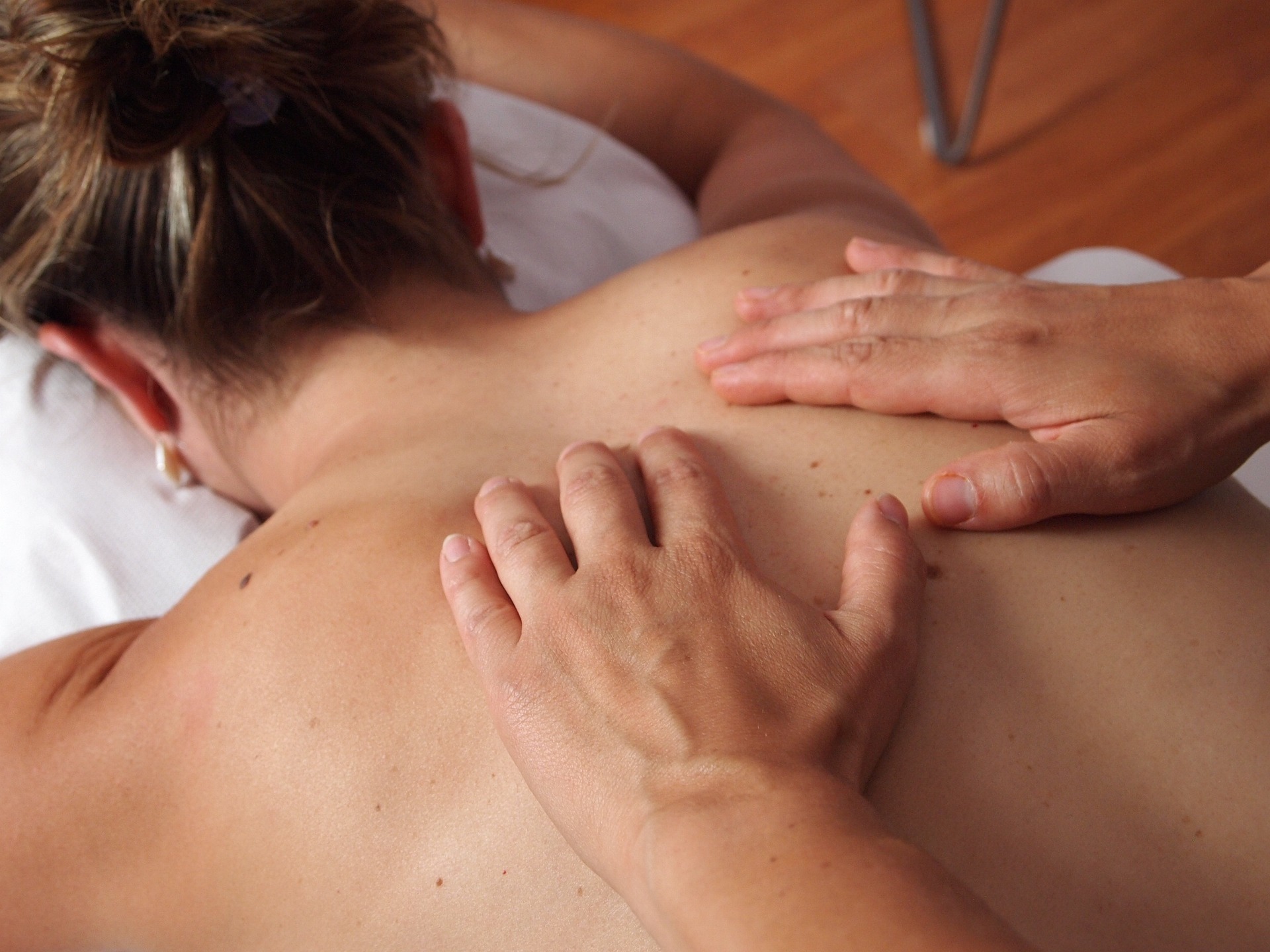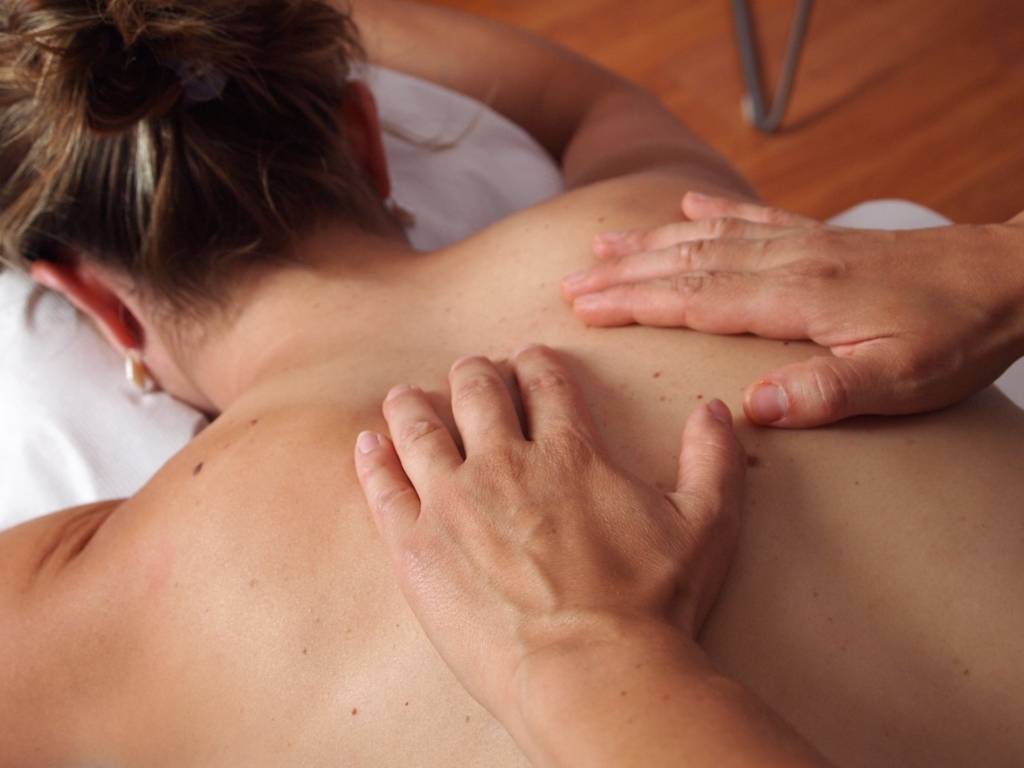 The Massage Company in Copenhagen
You only need to choose the length of massage
The type of massage and focus areas are decided when you arrive at the clinic.
A pain relief oriented in-depth massage with focus on a smaller body part like treatment of neck or lower back. 
(Time is incl. change of clothes and payment)
A pain relief oriented in-depth massage with focus on a larger body part, like the entire back for instance, and particular focus on one or two smaller areas.
(Time is incl. change of clothes and payment)
An in-depth massage of the entire body, and also specific focus on several tension areas.
(Time is incl. change of clothes and payment)
Massage in Copenhagen
The Massage Company (aka MassageKompagniet) is located on the east side of central Copenhagen and is the largest Physiological and Sports Massage clinic in Denmark. We offer massage in Copenhagen and specialize in the relief of muscle pain as well as in preventive treatments through deep tissue massage with a combination of techniques from sports massage, triggerpoint and wellness massage styles among others.
Your masseuse focuses on removing and relieving you of your muscle tension and pain. He/she will often combine various massage techniques during a massage session in order to give you the absolute best result and value for your money. masseuse may also advise you on ways to avoid the daily wear and tear on your body.
Special benefits of massage at The Massage Company:
We focus on muscle tensions and relieve pain thereof.
Experience and focus on migraines & intense headaches.
Treatments also prevent further muscle and myofascial tensions.
Your client record ensures that treatments adapt to the ongoing development.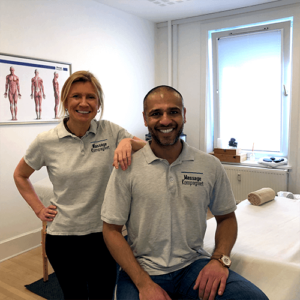 Massage in Copenhagen at MassageKompagniet
At MassageKompagniet we offer professional massage in Copenhagen to help you improve both your physical and mental condition. We work with preventive treatments as well as in pain-relieving massage and physiological massage, and we use techniques from both wellness and sports massage.
When you get a massage in Copenhagen at MassageKompagniet, you will be met by a team of skilled and competent therapists with different backgrounds, for example sports masseurs, general masseurs, psychomotor therapists and body therapists. Therefore, we have a lot to offer during a session of massage in Copenhagen at MassageKompagniet. What all our therapists have in common is that we are incredibly passionate about people's physical and mental well-being. We work purposefully to give you a better quality of life by freeing you from pain and tension to give you more energy to do the things that make you happy.
We always start the massage with a conversation about what you need and what you hope to get out of the treatment. We do not offer standardized treatments because we know that none of us are the same and all our needs are different. By listening to you before we treat you, we believe that we can best help you meet your wishes and needs.
Professional deep tissue massage in Copenhagen
Do you experience muscle tension or pain in your body? Then you can benefit greatly from getting a deep tissue massage in Copenhagen at MassageKompagniet. This type of massage is used to relieve pain and treat tension anywhere in the body. The masseuse works with deep pressure in infiltrated muscles, whereby the tissue is pressed together. When the masseur lets go, oxygenated blood flows into the muscle, which nourishes the area and improves blood circulation. With a deep tissue massage in Copenhagen, your body gets the opportunity to release miosis and tension and to transport waste products away. During the massage, you will work with your breath in order to relax the body, as the work will be done on the limit of the pain threshold.
Relieve tension with physiological massage
At MassageKompagniet we also offer physiological massage in Copenhagen. This is a versatile form of massage that focus on the musculoskeletal system, in example to get muscles, tendons and joints to function optimally. The massage works deep in the tissues and muscles. It activates the nervous system so that blood circulation in muscles and tissues is stimulated. During the physiological massage in Copenhagen the pressure in the muscles and tissues increases so that waste products are excreted more easily and the balance in the muscles is restored. This helps you to release toxins and relieve pain in different parts of your body and compensate for the harmful effects that stress, strain and sedentary work can cause. Visit our clinic for a physiological massage in Copenhagen. 
Bring someone for a relaxing couples massage
Invite your mother, sister, husband, friend or someone else in your close circle to a relaxing couples massage in Copenhagen and get a break from the busy everyday life. At MassageKompagniet we offer couples massage in Copenhagen with a focus on pain relief and muscle relaxation. We know that it can be difficult to really relax and let go of tense muscles in a busy and hectic everyday life. Here, the couples massage at MassageKompagniet can really make you and your partner relax and let go, so that you get rid of unpleasant tension and pain in the body. This is a chance to take good care of your body and get a pleasant experience with a person you care about.
Specialized neck massage in Copenhagen
Do you experience unpleasant pain and tension in your neck and shoulders? Then it may be time for you to make an appointment with a specialist who can help you with your discomfort and pain. At MassageKompagniet we offer neck massage in Copenhagen, which relieves tension headaches and tension in the neck and shoulder area. We know that tension headaches and stiffness in the upper back can often be traced back to the neck, and that it can therefore make a big difference for many people to receive deep tissue massage in this area. Visit MassageKompagniet to get a neck massage in Copenhagen and to be guided on how to avoid muscle tension and pain in the neck and shoulder area.
Sports massage at experienced clinic in Copenhagen
If you exercise or play a sport, you may sometimes experience muscle soreness or pain related to your exercise. In this case, getting a sports massage in Copenhagen can be a good and natural part of your sporting practice. By regularly getting this kind of massage, you can shorten your recovery time and prevent injuries. Many athletes can actually avoid injury altogether when they use massage as part of their training plan. At the same time, massage can be used to improve your performance and help you maintain your level without having to take long breaks due to pain, injury or soreness. At the massage company, we offer sports massage in Copenhagen, which can help you get the most out of your training, achieve good results and avoid injuries and pain.
Stress-relieving wellness massage for everyone
At MassageKompagniet we offer a stress-relieving wellness massage in Copenhagen that focuses on your mental well-being. The massage is often used in conjunction with a relaxing full-body massage and is combined with soothing music and a cozy atmosphere. We work with long, gentle strokes, which have a calming effect, and we usually recommend that you book a minimum of 60 minutes, so there is time to really slow down. The purpose of our wellness massage in Copenhagen is to make you de-stress and let go of everyday worries. In this way, the massage can give you renewed energy for you everyday life.
Get a professional back massage to relieve pain
Do you have problems with tense muscles in your back? Do you experience neck pain down to the back of your shoulders or pain that radiates into your arms and hands? We would very much like to help you get rid of your discomfort with a specialized back massage in Copenhagen. During the back massage, we emphasize stimulating the large back muscles to create optimal oxygenation and blood supply to the muscles. It helps to reduce tension in the muscles and minimize the risk of miosis and infiltrations. You can visit our clinic to get an effective and professional massage in Copenhagen, that will help you get rid of pains or discomfort in your back area.
Where do you find us?
The Massage Company is located in Copenhagen, just a few minutes east of the city center. The Massage Company is the largest massage clinic in Denmark, and we ensure you a massage therapist who has many years of experience and specializes in pain-relieving muscle treatments. During your massage session in Copenhagen, the therapist will focus specifically on your tensions and pain areas by using the full arsenal of massage techniques available in order for you to get the best experience each time, no matter whether you have minor tensions or extreme pains.